2015 BMW X3 Lease Near Orland Park
Lease A New 2015 BMW X3 Near Orland Park, IL
Do you care just as much about a car's functionality than its looks? At BMW of Schererville our finance experts are trained to find a lease that fits your budget. We offer low competitive rates and flexible terms to best suit your financial needs. The 2015 BMW X3 lease near Orland Park, IL, may be the perfect plan for you.
This fully functional mid-sized vehicle is designed to do more than simply transport you from point A to point B. With the Comfort Access feature, the X3 allows you to access your vehicle quicker and easier without having to fumble for your keys.
Keep your coffee in hand and simply wave your foot under the rear bumper to initiate the Smart Opener function. Instantly, your trunk will automatically open without you having to pull a lever or push a button. The hatch can be closed the same way, making it possible for shorter children to do the job themselves.
No frills and no spills. In the X3, no feature is without a purpose. From the in-door compartments that perfectly hold 1.5 liter beverage bottles to the lockable center console that contains two additional large size cup holders, we've done our best to keep your soda in its cup and not on the floor of your brand new X3.
In addition, the two closeable glove compartments in the front are ideal for storing manuals, maps and other personal items, while the covered storage compartment underneath the center armrest and the open compartment in the rear center console provide additional space to house any extra supplies.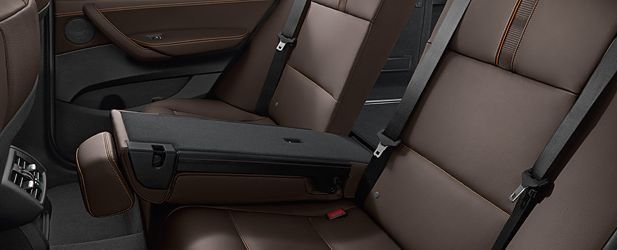 No item is left behind. The 40/20/40 rear bench seats can be folded down in any combination to allow the already high utility trunk space of 550 liters to be more than doubled in volume. The impressive storage package* includes cargo nets, two cargo rails with four fastening points, and a hidden storage compartment.
Using the iDrive Controller, you can heat up your vehicle with the built-in auxiliary heater without even starting the engine. The fuel system supplies energy to a water heating device in order to pre-heat cold engines and further reduce your fuel consumption. The auxiliary heater is programmed to automatically switch on when outside temperatures are below 59 degrees Fahrenheit.
If the 2015 BMW X3 doesn't have a place in your long term plan, no big deal. At the end of your lease term, you can either trade it in for a different BMW under a new lease or simply turn in the keys and the X3 is yours no more. But if there's a special place for it in your heart, you can either re-lease the same vehicle for another term at a reduced cost, buy it to own at an unbeatable price, or start a new lease with the X3's newest model. Whatever the situation may be, you'll have plenty of options to choose from when the time comes.
When you come in to BMW of Schererville to inquire about a 2015 BMW X3 lease near Orland Park, IL, you'll be working with a dedicated professional to find the best lease option for you. More than half of BMW drivers choose to lease their vehicles due to our flexible and competitive programs. Stop in to see our showroom and take the new 2015 BMW X3 for a test drive today.