2014 BMW M6 Gran Coupe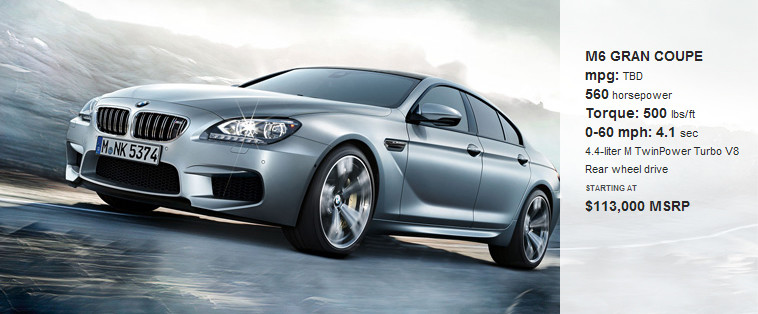 THE BMW M6 GRAN COUPE.



The ultimate driving experience with the versatility of 4-doors.
Standard Equipment
Active Protection has been added to all M6 models to initiate protective measures for occupants if an accident situation is imminent: front seatbelts are pulled tight, windows are closed, and brakes are automatically applied after crash. Includes Attention Assistant, whereby the system's electronics analyze driving behavior on the basis of various signals such as steering angle, road speed and other engine parameters. If the system increasingly detects signs of fatigue starting to build up, it issues a notification via the central Control Display to encourage the driver to take a break.
Packages/ Options
A new Competition Package (ZCP). Further enhancing vehicle dynamics and performance, the Competition Package includes:
- Exclusive 20" M wheels (style 601M with performance tires) are available when purchasing the package, in addition to alternate 20" wheel choices.

- Horsepower increase (+15 hp)

- Faster acceleration (-0.1 seconds: 0-60 mph)

- New suspension and damper application

- New mechanical steering with more direct input

- Sport exhaust with black chrome tailpipes and enhanced sound


All-new for MY2014, BMW introduces the M6 Gran Coupe with production beginning in April 2013. As with the M6 Coupe and Convertible, it boasts the most powerful engine ever outfitted in a BMW paired with a high-torque 7-speed M-Double Clutch.
The M6 Gran Coupe will have the same level of standard equipment as the 2014 M6 Coupe, including the new Navigation System Professional (609) with faster processing, an enhanced design, and several great new features. The M6 Gran Coupe will also receive the following additional standard equipment enhancements that are not offered on the M6 Coupe:
Through-loading system
4-Zone Climate Control
Enrichment Package:

- 20' M light alloy wheel (exclusive to the M6 Gran Coupe)
- Bi-Color Leather/Alcantara Headliner
- carbon fiber rear diffuser apron
- double-spoke black and chrome kidney grill with M designation
- floor mats with contrasting leather binding
- black chrome accents
The M6 Gran Coupe will have the same options and packages as the M6 Coupe, which change as follows for MY 2014:
- Manual Transmission is now available as a no-cost alternative to the 7-speed M-Double Clutch Transmission.
- M Carbon Ceramic Brakes are now offered as a stand-alone option for $9,250 and will be included in the Ultimate Service maintenance program.
- The Executive Package has been adopted from the M6 Coupe package, which has been revised to add Front Ventilated Seats and remove Satellite Radio and Soft-Close Doors which are now standard.


Contact us Today to Order!
HTML Content